CraZy
Level Information
Creator
DavJT and N R G
Difficulty
Insane Demon
Stars
10
ID
40945673
Last updated in
2.1
Level version
1
Soundtrack
Song name
Circus Comtraption - Charmed I'm Sure Dirtypaws Remix) (New Mix) Instrumental
Play song
None
Composer
Dirtypawsofficial
Song ID
774298
CraZy is a 2.1 Insane Demon collaboration created by DavJT and N R G, and verified by DavJT. The level is 1 minute and 20 seconds long. It is popular for containing circus clown themed parts and a skull boss fight in it. The level is in fact known to be a Hall of Fame demon.
Gameplay
0-8%: Cyborg themed part with a clown monster you will fly through as a ship, although the part is not as hard it gets harder.
8-11%: UFO spam with up and down portals in 3x speed.
11-23%: Timing cube part at 2x speed. By the way, in 20% the background changes into an animated puppet show.
23-34%: Fast 3x speed flying with a count down till the drop. In order to not die you had to dodge the wheels.
34-61%: Drop incomes with more timing parts, especially with the spider. Fact: Before the boss fight you may fall in a hole, but you may see a part of press start while falling.
61-86%: Skull Boss Fight comes in with moving objects and flying while fighting it. Sometimes the boss does not do anything while you are jumping.
86-100%: Boss finally ends. after the boss ends when you get eaten, the level continues with more timing cube parts, in the end, it will show the logo for the level.
Trivia
The level has a 2nd version of it made by the original creators with a different soundtrack.
CraZy is considered advanced rating Insane Demon, there were a few easy parts in the level someone considered but the level was overall still Insane Demon.
The 2nd version, CraZy II. Has some same things from the first one but improved and was harder.
The main level purpose was about a CraZy circus with clowns, the theme was based on the music which had the word Circus in it which gave the creator an idea.
Walkthrough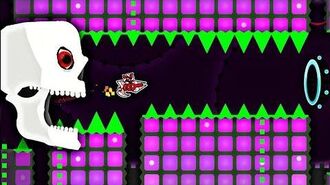 Community content is available under
CC-BY-SA
unless otherwise noted.